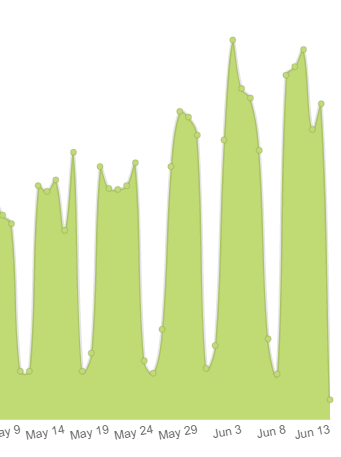 The positive indicators that we noted in our last update have continued into June (see graph below showing user submitted events).  User event submissions have been increasing each week, and along with virtual events, a significant number of those submissions over the last few weeks are for in-person events.  Submissions are a leading indicator, as events get submitted some number of days prior to when they take place.  Many of those events are now taking place.
With that in mind, our team has been focused for a number of weeks now on when to begin switching the calendar default views back to 'all events' (in-person and virtual), as opposed to 'virtual events' only.   Below are the considerations we will be following:
In the last few days, we released some programmatic updates that will facilitate the switch:
The message at the top of the calendar has been modified and differentiated, so that tailored messages will appear when viewing 'all events' and 'virtual events', respectively.
A visible flag has been added to virtual events, so that when viewing all events, those that are virtual are easily identified.
Two additional criteria that we feel need to be met prior to switching include:
The majority of cancelled and postponed events need to be removed from the listings.  As you would guess, many events that were created and submitted prior to mid-March, have been canceled or postponed.  Many, but not all, organizers have updated their event with the latest information. Our team has been reviewing markets and removing the lingering events that are no longer happening as we are able to identify them.  There will still be some that remain, as the challenges in finding all of them are many, but we anticipate that the vast majority of canceled or postponed events should be removed prior to switching.
The local regulations need to allow for group gatherings of up to 50 people.  We do not recommend showing in-person events as the default (as opposed to virtual events only), if the local regulations do not allow for groups of at least 50 people.