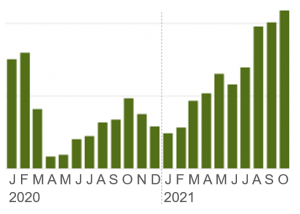 We all know that live events took a head-on COVID hit. But, did you know that demand for event listings and event promotions is now back and then some? While the number of events taking place has not yet reached pre-pandemic levels, event promotion spending has already surpassed pre-pandemic levels in most markets (see graph for total spending).
After a long wait, audiences are eager to get out and are searching for live events. Event promoters are opening their wallets to get the word out and to reach these active audiences. Consumers are forming new habits and it's essential for your publication to be in the game.
Does your site offer a searchable local calendar? Does it include a comprehensive set of local events? Are event organizers able to purchase promotions and other add-ons via a self-serve platform?
If the answer to any of these questions is no, it may be a good time to review your community events page.
Contact our the CitySpark team today (sales@cityspark.com) for a free assessment of your current calendar and/or a live demo of our event platform.